Which means: "Hey cool track, I'm going to pass this on. It may be usable to the TV/Film/Publishing pro that will hear it next."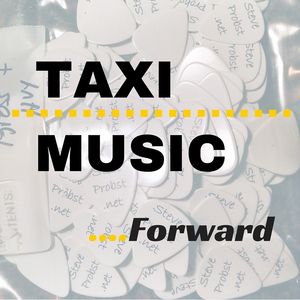 ORIGINAL DARK, DYSTOPIAN CHRISTMAS INSTRUMENTAL CUES are needed by a Music Library that's always hustling and landing placements for TAXI members in TV Shows, Film projects, and Movie Trailers! 
This Library is on the hunt for Mid-to-Up-Tempo Instrumental Cues that could fit in the general stylistic ballpark of the following references: 
"Snow Wonders" by Myuu 
"Carol of the Bells" by Lucas King 
Please submit original, well-composed Christmas Instrumental Cues that have a dark, dystopian sound and vibe. Craft your Cues around an eerie motif, and create a sense of forward momentum and dynamics by layering instrumentation in and out as they progress. We think Orchestral or Orchestral Hybrid instrumentation with Christmas-y accents like glockenspiel, jingle bells, tubular bells, etc. will be the best approach for this request. Please be sure your production and any virtual instruments or samples you use are high-quality, polished, and modern. If your Cues could put a chill down the listener's spine send them in! 
All submissions should be about 60 to 90 seconds long, give or take. Non-faded, buttoned/stinger endings will work best. Please do NOT copy the referenced examples in any way, shape, or form. Use them only as a general guide for tempo, texture, tone, and overall vibe.  Broadcast Quality is needed.
Lots of QUIRKY ORCHESTRAL DRAMEDY INSTRUMENTAL CUES are needed by a Music Licensing Company with a large list of placements in Films, TV Commercials, and A-List TV Shows. 
NOTE: This Company has signed lots of TAXI members over many years and nailed down tons of placements for them! 
This Company is looking for Instrumental Cues that could be found on a playlist with the following references: 
"Desperate Elves" by Steve Barden 
RHOSLC Highlights S1 Ep6 (From 1:35 - 2:00) 
"Fluffing a Duck" by Kevin MacLeod 
IMPORTANT NOTE: This Company has specifically requested that you only submit pieces that have distinct, complementary A and B melodic sections. Be sure that when the sectional change happens, the mood and/or emotion stays cohesive.
TAXI ROAD RALLY - Film & TV Instrumental and Cue Pitch and Feedback Panel (TAXI Screeners) – Instrumentals and Instrumental Cues (from TAXI MEMBERS only) 
Instrumentals and Cues played during this panel will be chosen randomly from a playlist generated from this TAXI Listing! 
Submissions NOT played during the panel will be screened about 30 days after the Rally by the panelists, and Forwards will go on to a TAXI Instrumental Compilation that will go out to a few of our favorite Music Libraries. 
Instrumentals and Cues submitted will NOT be pre-screened before the panel, so every submission has an EQUAL CHANCE of being randomly selected and played on the panel by a randomization algorithm! 
You get two chances at having the panelists hear your Instrumentals and Cues: 1) Randomly during the panel, or 2) By getting Forwarded by TAXI's A&R people after the Rally!