The blog series that highlights a selected song from my latest album, "III" 
Episode 2 : MY HAPPY PLACE
The seed of this tune came firstly not from artistic inspiration - "Oh, I must capture this song immediately while the muse flows freely through my ever-sensitive creative soul!!" - Oh no, my friends.
There's a song that I really like by Christ Stapleton called, "Whisky and Me". I decided one day to take the form of the song, rhyme scheme, etc and just write something in the same pattern. As an exercise and a way to "jump start" the writing process. First thing I did was search for a title with the same syllables as "whisky and me" from list of title ideas I'm constantly adding to. I decided on "My Happy Place". I then flipped the sentiment - the former song was sad, mine would be happy.
Click play:
I just started my usual "just writing anything until something sticks" (if anything even would that day). I remember sitting on the floor, "reaching" for the possible song that might be floating around "in the room". Stuff started appearing on my yellow pad:
"Fridge is humming" ?- We have an older fridge thta keeps chuggin along!
 "Browning onions smell like heaven in a pan"? True story. Love it.
"Pillow laying on the floor" - There it was to my left, the couch throw pillow
"That Christmas present that never made it out the door"? There it was, over to my right. 
"Puppy paws" - 2 dogs, 8 paws in the household!
The "tie comes off" bit is a bit of a fabrication. I don't wear a tie and come home from the office every day. (Although I've been know to wear one onstage)
In many songs, the "hook" comes right at the beginning of the chorus. I let "My Happy Place" close out every verse.
The stuff about Disney and New York City in the bridge? That's me. My happy places. But the bridge closes out with very best kind of "happy place"
And of course, the ultimate "happy place" in Verse 3.
-----
It was suggested in a songwriting critique session to rewrite the bridge. But I left it as is to move to another song. Someone else may not want to recorded it, but it has a whole not of "me" in it, so I figured I'd keep it for myself.
-----
There you have it! A song that might never have been born that day if I hadn't practiced a little pro-writer discipline and shown up to the solo "writing session"! 
Check out the photo below. I was surprised to be reminded in my scribblings that "My Happy Place" started at the beach but ended up in the living room!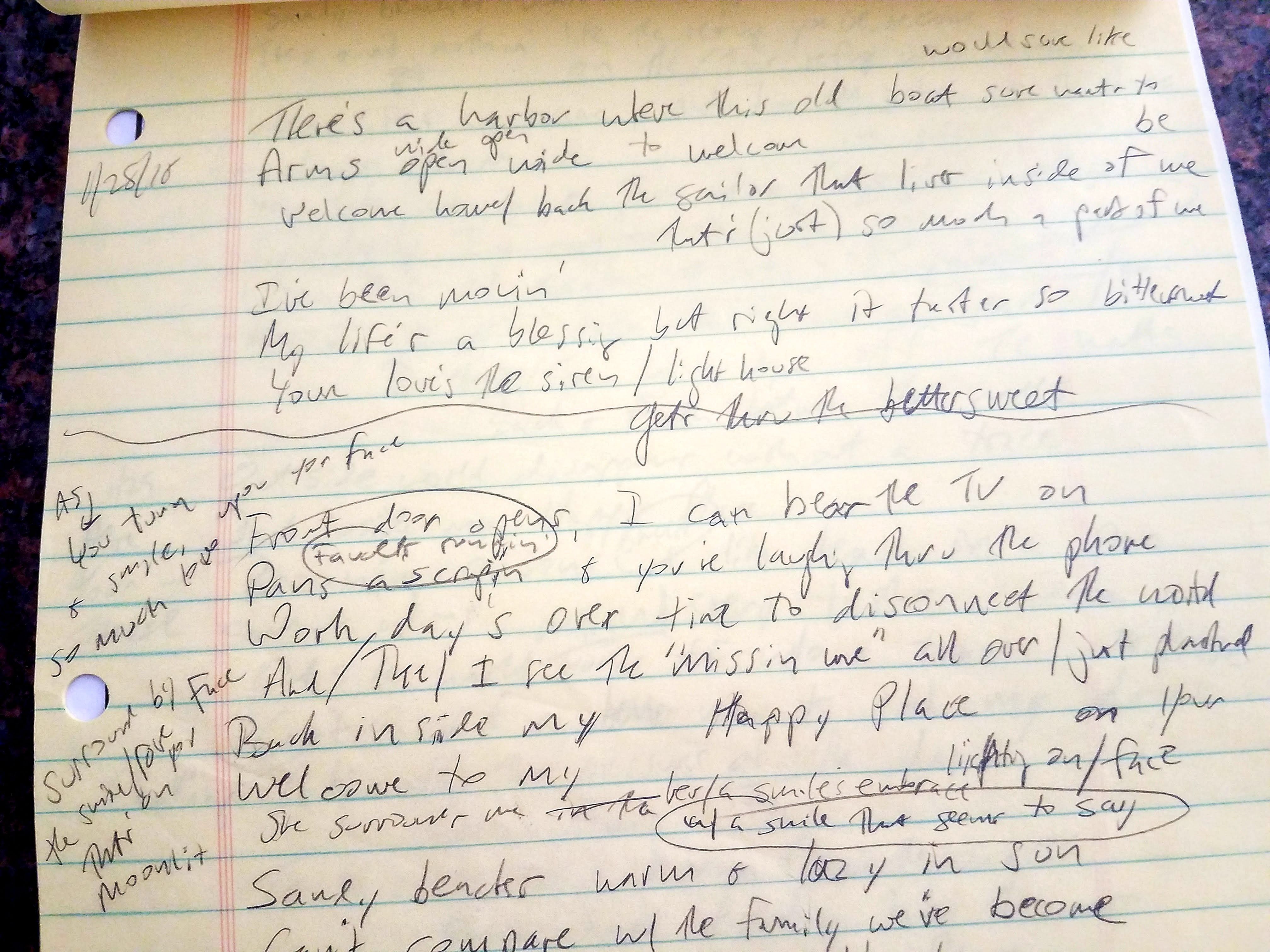 I love songwriting! How about you?
Here's the song pattern inspiration for "My Happy Place":
Get the album "III" HERE