I'd like to present you with my new single, "Missing You". I've had a pretty busy schedule, so releasing one song by itself (as I did with "Hallelujah") is doable to continue getting new material out there.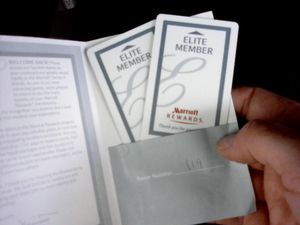 This picture on the right represents the start of this song
Now I don't remember if these were THE hotel keys that inspired the track or I snapped a picture of one many sets for future reference. (This also became the "album" art)
The song was written about 2009. After getting sidetracked writing other tunes, I finally put all the instruments and a plethora of vocals together to release so the song just doesn't languish in obscurity within my stash of unfinished creations forever. 
Listen to the preview 
HERE.
 Buy if you like it and please share! Thanks!! 
(Only available as a digital download. Please contact me if you are... "digitally challenged(?)".  I want everybody to be able to enjoy this.)
CLICK HERE!