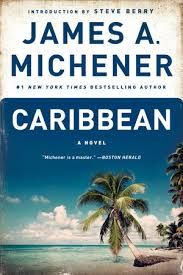 Well, it's been about nine months since my last book quote blog. I've read a "few more" books since then!
"A man could sail on forever … forever till the final darkness comes."
The Caribbean cruise I performed on in March has long since past, but I continued to "dwell" on and around the islands (if only in my mind) for a few months after, being that "Caribbean" by James Michener is over 900 pages long and I'm not a fast reader. More like sporadic, depending on if I'm traveling or at home.
I enjoyed this read very much all the way to the end.
-----------------------------
When the writers of the "Pirates of the Caribbean" movies were doing their research, they must have used this book as one of their sources.
"Port Royal was special. It had no police, no restraints of any kind, and the soldiers stationed in the fort seemed as undisciplined as the pirates who roared ashore to take over the place, night after night. They were of all breeds and certainly all colors, and all with nefarious occupations. In some hectic months Port Royal averaged a dozen killings a night, and prominent on the waterfront was a rude gallows from whose yardarm, "dancing in Port Royal sunshine," was the corpse of some pirate who had attacked the wrong ship at the wrong time."
-------------------------------
"I learned that one of the glorious experiences of travel is to be in a small boat just before dawn as you approach a tropic island. Darkness everywhere but a sense that something lies ahead. Then a distant glimmer of light, a kind of throbbing in the air, and because it is in the tropics, where the sun rises and sets with a rush, not a lingering tease, here comes the great orb, all of a sudden. Light everywhere! And then, far ahead the outline of an island in the midst of a great ocean. More light, more island, and as your boat sweeps in you see the palm trees and the hills and the reassurances that people live there. Don't miss a thrill that may come only once in your lifetime."
~ The same goes for a large ship,... but add the daily all-you-can-eat buffett! (If you're into that sort of thing)